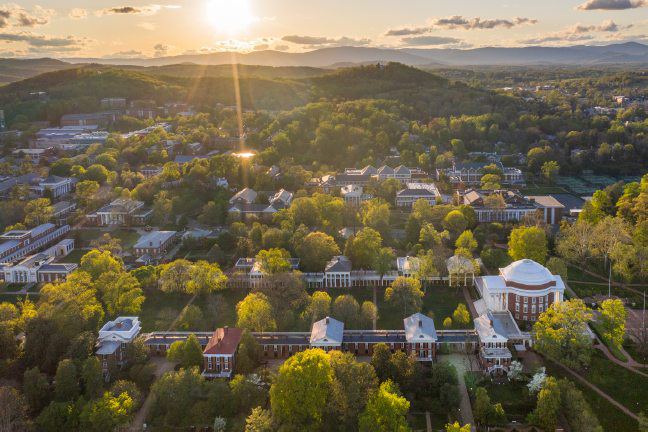 Welcome to the University of Virginia! Congratulations on your offer of admission to the class of 2026. We feel fortunate and grateful that you are considering UVA. You've been invited to join our community and now it's time to imagine yourself here. This is your chance to own your future, to create a life filled with exciting opportunities and to start your pursuit of better. Throughout February, March, and April, we have many exciting events to help you learn more about the UVA community and all it has to offer. Please explore your options below:
Spring Events
Greetings from the University of Virginia! We invite you to join us on Grounds this spring to celebrate your success and welcome you to our community.
Have you already decided that UVA will be your home for the next four years?
We are pleased to invite you to our in-person Admitted Student Tours and Admitted Student Chats, designed just for you. The student-led tours will focus on the first-year experience and what it's like to live on Grounds, and include a pass for you to eat lunch in our dining hall. The virtual chats will be led by a group of current students who can answer all your questions about what it's like to live, learn, and thrive as a student at UVA. Register for tours and chats using the button linked above.
Do you want to learn more about UVA before making your decision?
Days on the Lawn (April 4, 8, 11, 15, 18, and 22) are open house, conference-style events designed specifically for undecided admitted students. Come spend a day with us to learn more about the University and envision your future as a 'Hoo. View the schedule of events here.
All sessions are first-come/first-serve, and there is no waiting list. Due to limited space, you may bring one guest with you. For travel planning purposes, plan to be on Grounds from early in the morning until at least mid-afternoon during these days. Register through your MyUVA application portal.
Unable to attend Days on the Lawn, but still want to visit us/learn more?
If you are unable to attend on the of the Days on the Lawn events but still want to learn more about academics and resources at UVA, then we encourage you to visit us for an Admitted Student Tour and/or Chat instead. All admitted students are also invited to register for our weekly virtual Admitted Student Chats. Register for an Admitted Student Chat or Tour here.
We look forward to seeing you soon!
Additional Resources and Events
School of Architecture
The School of Architecture offers several opportunities for prospective students, including in-person tours, virtual sessions, chats with their student ambassadors, and more. You may view the full list of options here.
The School of Architecture congratulates you on your admission and invites you to contact them directly at a-school-admissions@virginia.edu with any questions about visiting the A-School.
School of Education and Human Development
This Spring, the School of Education and Human Development will host in-person walking tours of their classrooms and facilities every Friday, which you may sign up for here.
Join us on Monday, March 14 at 7:00pm ET to learn more about the majors in UVA's School of Education and Human Development: Teacher Education, Speech Communication Disorders, Youth & Social Innovation, and Kinesiology. Register for the event here.
Can't make it, but want to learn more? Sign up for the School of Education and Human Development's email listserv here.
Kinesiology
On Monday, February 28 at 7:00pm ET, the Kinesiology major will host a virtual Q&A session for admitted students. Register for the event here.
School of Engineering and Applied Sciences
Batten School of Leadership and Public Policy