Friday, April 8, 2022
Spring Blast is an annual in-person open house designed to highlight Hispanic and Latinx student experiences here at UVA. This one-day event for admitted students will also highlight some of the countless resources that students use to find their place in the diverse UVA community.
In addition to the Days on the Lawn offerings, Spring Blast will feature student-led tours of Grounds; a discussion on the University's culture of community and advocacy; lunch with current students; a panel discussion with current students and alumni; and more! Find the full schedule of events here.
We have also reserved a limited number of rooms at nearby hotels for those who may come to Charlottesville on Thursday. If you would like to reserve one of these rooms, please click here. Please note again space is limited and the rooms will be reserved on a first-come, first-serve basis. Feel free to reach out if you have any questions! You can contact us by phone at (434) 982-3377 or by email at outreachteam@virginia.edu.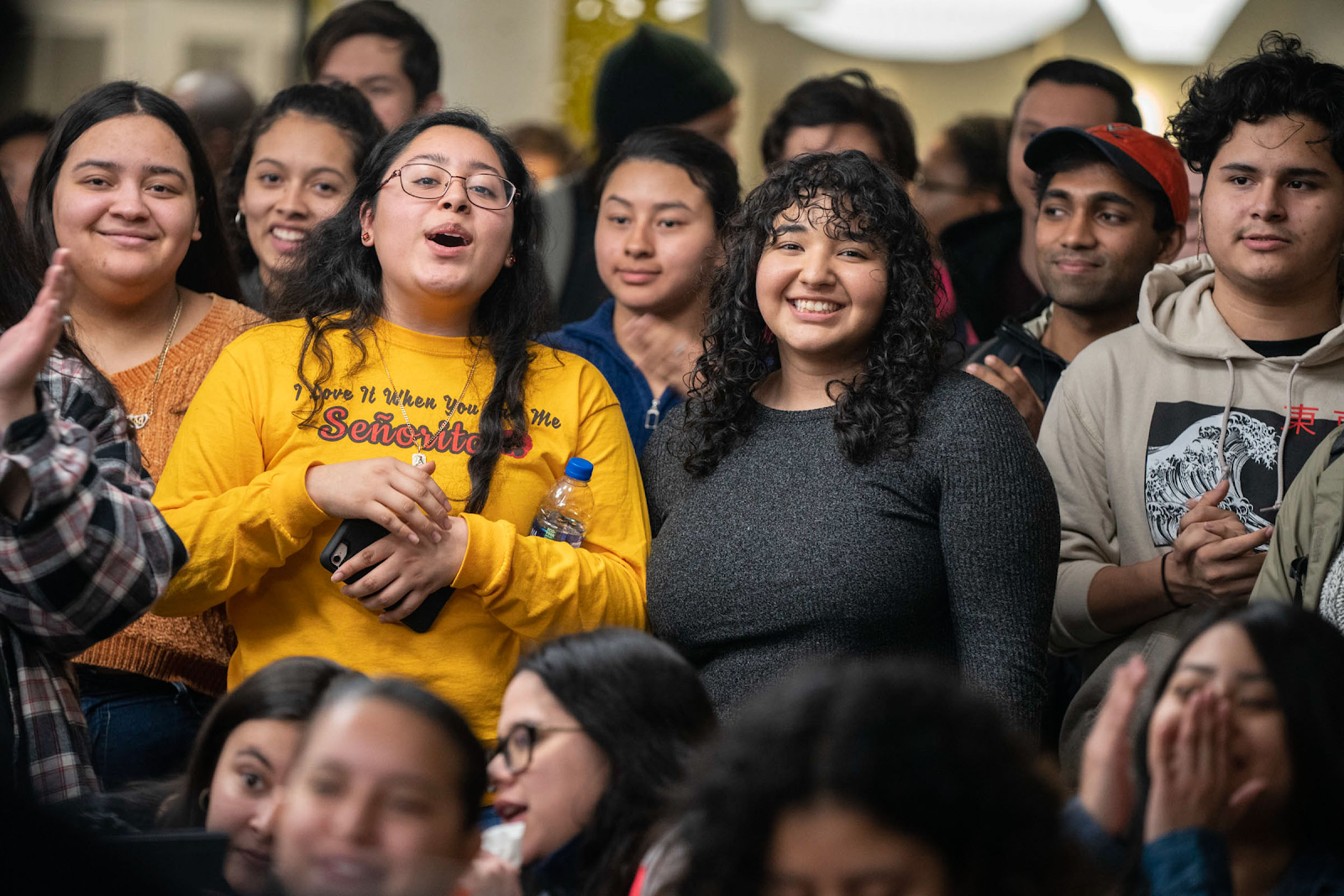 ---
IMPORTANT: Mask, Health, and Safety Guidelines
To help protect the health and safety of the UVA community and all our visitors, all Spring Blast participants are expected to follow all health and safety guidelines established by the Governor of Virginia, the University of Virginia, and the Office of Undergraduate Admission. As a campus community, we are fortunate that we have exceptionally high vaccination rates. We seek to avoid disruptions to our classes, activities, and student life as much as possible while maintaining our commitment to mitigate risks for the UVA community and all visitors. As a result, we encourage all Spring Blast attendees to be fully vaccinated. To reduce your risk of catching or spreading illness, we ask that you stay home if you feel sick, even if your symptoms are mild. Additionally, masks are encouraged for all Spring Blast and Spring Fling attendees within UVA buildings, both vaccinated and unvaccinated. When possible, please practice physical distancing between individuals. Please remember that registered visitors may only have a maximum of one guest accompany them at the open house event. You can find information on the most up-to-date University COVID polices here: www.coronavirus.virginia.edu.
---
DOTL/Spring Blast: Check-In at the Rotunda (7:45 - 8:45 AM)
Arrive, check in, and meet some of our student volunteers. 
You'll also get a packet with all the materials you'll need
for the day. Once you've checked in, it's a short walk to 
the Lawn for the Welcome Address.
DOTL/Spring Blast: Welcome Address at the Rotunda (9:00 AM)
The Cavalier Marching Band will start at 8:45am and we'll
kick of the day by hearing from UVA community members
and get a preview of the day to come.
DOTL/Spring Blast: School Information Sessions (9:30 - 11:00 AM)
College of Arts & Science Old Cabell Hall & Newcomb Hall Theater
School of Engineering & Applied Science Newcomb Hall Ballroom
School of Architecture Campbell Hall, Room 158
School of Nursing
Kinesiology
DOTL/Spring Blast: Lunch (10:30 AM - 2:00 PM)
Enjoy lunch in either the Fresh Food Company at Newcomb Hall or
Observatory Hill dining Facilities. All admitted students receive free
entry to their designated dining hall with their Days on the Lawn nametag.
Guests may dine with their student at a reduced guest rate.
DOTL/Spring Blast: Upper Divisional School Information Sessions (10:45 - 11:30 AM)
School of Education & Human Development Bavaro Hall, Room 116
Frank Batten School of Leadership & Public Policy Garrett Hall, Great Hall
McIntire School of Commerce Newcomb Hall Theater
DOTL/Spring Blast: Resource Fair (11:00 AM - 1:00 PM)
Learn more about career planning and internship opportunities,
safety, study abroad, student resources, Student Disability Access
Center, School of Data Science, Office for Sustainability  and more
in the Newcomb Hall Ballroom.
DOTL/Spring Blast: Student Center Open Houses (11:00 AM - 12:30 PM)
Visit one of our student centers in Newcomb Hall who will be
hosting open houses during this time:
-Lower Level (LL): Student Veterans Center
-2nd Floor: Multicultural Student Center
-3rd Floor: Latinx Student Center
-4th Floor: Interfaith Student Center
DOTL/Spring Blast: Community, Culture, and Advocacy Panel (11:45 AM - 12:30 PM)
Are you interested in leadership, social justice, having your voice
heard, and/or advocating for yourself and/or others? If so, this is
the session for you. The University has undergone many changes
since its founding over 200 years ago. Come hear from a panel of
current students about how student advocacy has shaped the
University. Students and parents/guardians are all welcome at
this event. This event will take place in the Newcomb Hall Theater.
Spring Fling: Lunch (12:00 - 1:00 PM)
Enjoy lunch and conversation with current Hispanic and Latinx students.
Meet with your lunch buddy at the Peabody Hall tent before walking to
Newcomb Hall. All admitted students receive free entry to the dining hall
with their Days on the Lawn nametag. Guests may dine with their student
at a reduced guest rate.
Student-led Tour of UVA in Spanish (1:00 - 2:00 PM)
 Meet at the Peabody Hall tent for a student-led walking tour of Grounds.
Spring Blast: Community Gathering (2:00 - 4:00 PM)
Come & join us for food & fellowship in the Multicultural Student Center!
This event will feature a panel with Latinx alumni, a time to gather
with current students, and maybe a few student performances.