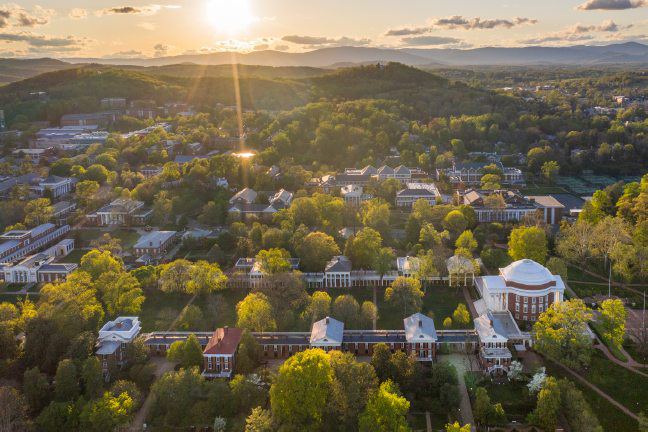 Welcome to the University of Virginia! Congratulations on your offer of admission to the class of 2025. We feel fortunate and grateful that you are considering UVA. You've been invited to join our community and now it's time to imagine yourself here. This is your chance to own your future, to create a life filled with exciting opportunities and to start your pursuit for better. Throughout April, we have many exciting events to help you learn more about the UVA community and all it has to offer. Please explore your options below:
Take a Virtual Tour of Grounds or Chat with Current Students
The University Guide Service will offer tours every Tuesday and Thursday at 12:00pm ET and every Saturday at 1:00pm ET through the end of April. In April, they will also host live evening chats at 8:00pm ET. Register for a tour using the "Calendar and Event Registration" link above.
For more resources, please use the "Chat with UVA Students" link above.
Additional Resources and Events
College of Arts and Sciences
General Education Curricular Pathways
Office of Citizen Scholar Development
Office of Undergraduate Research
Join UVA's College of Arts and Sciences for a mock class experience: EGMT 1520 Why We Hold Hands
Come experience a representative example of a College of Arts & Sciences First-Year class. Professor Jim Coan, future Co-Director of the College Fellows and the Engagements Program, will offer the very first day of his EGMT 1520: Why We Hold Hands Engagement Seminar designed expressly for first-year students. As a participant in the class, Professor Coan asks that you come prepared to ask questions and reflect on the experience. The first way to prepare is to review the Syllabus and the two assigned class readings. Don't worry, they're really engaging (pun intended)! Also, have blank sheets of paper and colorful pens and pencils at your disposal during the class. 
The Engagements are first-year classes taught by UVA's leading scholars and teachers. They ask big questions, and invite you to think about what you know and value. For more on the specifics of Why We Hold Hands, check out the course description or this UVA Today interview with Professor Coan.
Mock Class Experience To-Do List:
Read the Introduction and Principles of Scientific Inquiry before class.
Grab some paper and brightly colored pens/markers.
Ask questions throughout class! 
All class materials above have been copyrighted © 2020 James A. Coan. All Rights Reserved.
Music at UVA
Join UVA Music for a zoom webinar about Music at UVA. Karl Hagstrom Miller, chair of UVA Music will give a comprehensive overview of music at UVA. Karl will be joined by a few of our faculty and our music majors who will be able to answer all of your questions. This webinar will cover the student experiences in Music; Performance Ensembles; Academic Classes; Private Lessons; the Music Major; Facilities; and a question and answer session. If you or someone you know would like to learn about the music opportunities at UVA please come to our Days on the Lawn Music Webinars.
Thursday 4/22 at 6pm: Register Here (password: music)
Thursday 4/27 at 6pm: Register Here (password: music)
School of Architecture
Additional Opportunities to Engage with the School of Architecture
The School of Architecture invites admitted undergraduate students to a series of online opportunities that have been developed to help you engage with faculty and current students. View event details and register here.
School of Architecture Overview (Tuesday, April 6, 6:00-7:00pm ET)
Student Social Hour (Wednesday, April 7, 6:00-7:00pm ET)
Class Visit- ARCH 2200 Principles of Tectonics (Thursday, April 8, 9:30-10:45am ET)
Student Organizations + Engaged Leadership Panel (Thursday, April 8, 9:30-10:45am ET)
Undergraduate Program Overviews (Tuesday, April 13, 6:00-7:00pm ET)
Career Services Overview + Alumni Meet-and-Greet (Wednesday, April 14, 6:00-7:00pm ET) 
McIntire School of Commerce
School of Education and Human Development
Connect with Student Ambassadors
For students accepted into the Kinesiology program:
Wednesday, April 7th, 6:30-7:30 PM ET, Kinesiology Student Meet and Greet
Join current UVA School of Education and Human Development students to discuss life at UVA, their experiences at our school and get a chance to meet other students who have been admitted to the Kinesiology program. Register here.
School of Engineering and Applied Sciences
School of Nursing
Bachelor of Science in Nursing Information
School of Nursing Student Organizations
School of Nursing Financial Aid and Scholarships
The School of Nursing is excited to host several events for prospective students on Mondays and Wednesdays at 5:00pm ET, February 24-April 26.
Wednesday, February 24: General Q&A
Monday, March 1: First Generation Student Panel
Wednesday, March 10: First Year Student Panel
Monday, March 15: Second Year Student Panel
Wednesday, March 24: Getting Involved at the School of Nursing
Monday, March 29: Third Year Student Panel
Monday, April 5: First Generation Student Panel
Monday, April 12: Fourth Year Student Panel
Wednesday, April 14: MAN (Men Advancing Nursing) Club Student Panel
Wednesday, April 21: Out of State Student Panel
Monday, April 26: General Q&A
Please check your email for links to access these events.
Batten School of Leadership and Public Policy